ANNOUNCING CHRISTINE'S NEW BOOK!

NAVIGATING CHANGE ~ Coming soon!
Click here for overview and ordering information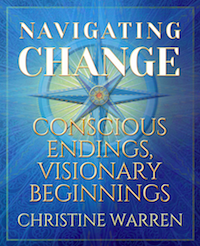 I'm thrilled to announce the forthcoming publication of my new book, NAVIGATING CHANGE. It contains all of the teachings, inspiration, practices and step-by-step guidance that have made my long-running national workshop a life-changing experience for thousands of people. More coming soon! Sign up for my newsletter below for announcements, previews, preorders and more!
Click here to read Christine's most recent newsletter, including excerpts from both of her upcoming books.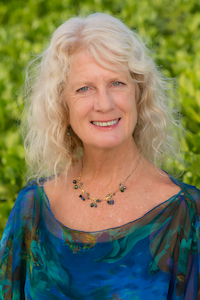 Christine Warren is a 38 year national presenter of transformational workshops, a professional life coach and counselor, a motivational inspirational speaker and the director of the One Spirit Institute, her Maui retreat center located in beautiful upcountry Maui. Her spiritual and personal growth workshops have been offered at Kripalu Center, where she is a founding member and 38 year faculty; Esalen Institute; NY Open Center; Omega Institute; Rowe Center in MA; Atsitsa Centre in Greece; at Lesley College, Cambridge; Long Island University and in many other settings.
"Working with Christine Warren has been the most useful and meaningful mentoring/consulting/coaching relationship I have had with a professional in my life. In the invigoratingly serene setting of her retreat center, I find that the time, space, energy, deep listening heart and the wisdom she brings all help me find the place I come to find. I have been to a lot of 'helpers' in my adult life, and have not gotten much "help". Christine is... exceptional."
-James Michael Nolan, Ph.D.
President, Southwestern College, Santa Fe, New Mexico
Often described by clients and program guests as "life changing", Christine's work as a teacher, mentor and guide supports clients and workshop participants in living an expansive, joyful, actualized life vision, successfully navigating changes and life transitions, and manifesting an abundant life. Her work is informed by her years of training and study of Depth and Jungian psychology blended with a lifetime of spiritual development practice and teaching. Christine's services include: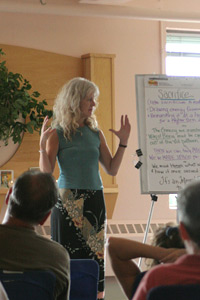 Program at Kripalu Center
Christine Warren is a founding member and 38 year senior faculty of Kripalu Center, the nation's largest spiritual and personal growth retreats center. Her transformational workshops personal growth and spiritual awakening have been given at many national program centers including Kripalu Center, Esalen Institute, Omega Institute, The New York Open Center, Rowe Center, Atsitsa and Skyros Centers in Greece, in academic settings, and in many other locations including The One Spirit Institute, her Maui retreat center located in Upcountry Maui.
"Christine combines laser-like insight based on decades of practice with a radiant presence that makes you want to jump into the adventure of life! She is masterful in creating the environment, experiences and tools to unfold her own genuine wisdom and presence to others.""
-Thomas Amelio, Director, New York Open Center
"As a 25 year former director of Kripalu Center, I know Christine's teaching intimately. I consider her to be one of the most skillful leaders of group work that I have known. Christine's teaching changes lives. She opens people to vaster possibilities for their lives, and does so with compassion, clarity and positivity. Kripalu guests love her workshops."
-Kate Feldman, MSW; former Director, Kripalu Center; psychotherapist/teacher
Transformational Workshops led by Christine Warren include programs and personal growth workshops in Navigating Change, The Hero's Journey, One Spirit, The Alchemy of Life Transitions and other workshops offered at her Maui retreat center as well as nationally.
Conscious Mentoring, Counseling & Professional Life Coaching sessions combine Christine's background guiding thousands of workshop guests in transformational processes, being an executive trainer and leadership coach, and teaching spiritual and metaphysical approaches to growth, life and change. Private sessions take place at Christine's Maui office.
Personal Retreats offer individuals, couples, and groups creative, custom designed sessions with Christine to receive personalized teaching and support integrating her experience as a professional life coach, skillful, insightful pastoral counselor, and seasoned facilitator. Each Personal Retreat includes experiential work, ritual and ceremony, creative visualization and brief meditation, personalized teachings, tools and handouts to create a powerful experience of change in a focused time. Inspiring preparatory work for the client and follow-up support are included. Personal Retreats take place at Christine's center in beautiful upcountry Maui.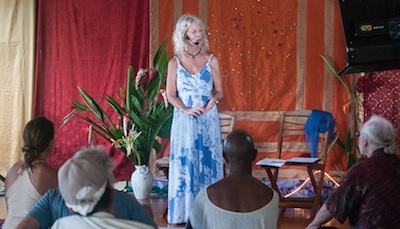 Workshop on Maui, Hawaii
"Christine Warren has impressed me more than any trainer or life coach I have observed in over 30 years in the field of education. Her sensitivity and flexibility to adapt her plan to the group's need was outstanding. Her deeply transformational workshops have given me the insights to rebuild my life with strength and vision."
-Jean Soto, Director, Technical College