The Art of Teaching Transformational Workshops
Experience: Christine Warren is known for her creative designing, dynamic speaking and teaching, and masterful group facilitation. In this professional skill-building and personal growth workshop, Christine shares the skills, insights, tools and approaches she has gathered in her extensive years as a senior trainer designing and leading powerful transformational workshops. For details on Christine's experience, see About Christine Warren.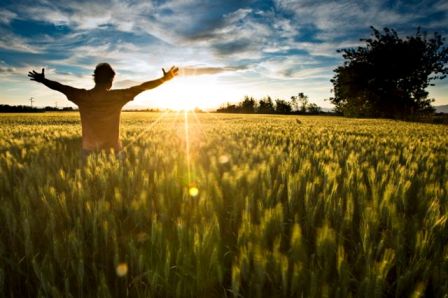 This experiential, skills-building and inspiring workshop combines dynamic professional training with a personal transformational experience in stepping into your own voice, inner authority and talents as a teacher. It is based on Christine Warren's 35 years as a national presenter of over 500 transformational workshops in a wide variety of settings. You will leave deeply in touch with your vision, voice, and gifts as a teacher, and the knowledge of how to assemble these to touch the lives of others. You will gain skills in program design, group facilitation, public speaking, and standing in your deep presence. You will discover deeper dimensions of your own gifts and talents as a teacher and the core elements in bringing your personal light to others as a teacher. The weekend includes: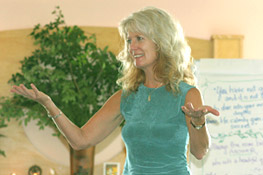 ~Creating a Soul-Charged Vision for your workshops that expresses your personal mission and values.
~The 6 Elements of Powerful Transformational Workshops: the key elements that make your workshop dynamic and multi-faceted, touching all learning styles.
~Knowing Your Medicine: Discovering and affirming your special gifts and talents which you bring to those you teach.
~Designing with Purpose: Holding a clear vision of the benefits you intend to deliver, and making them the beacon for every lecture, experience, and session you prepare.
~Speaking From Source: How to let your inner Source speak through you and allow your inner authority and knowing to instruct, teach, and help others.
~Polishing the Lantern: Clearing away disabling beliefs about yourself as a teacher so your light can shine unobstructed.
~Understanding Your Group: Using Jung's 6 Personality Types to understand your own personal style and communicate effectively with the diverse personalities present in every training.
~Creating Group Tribe and Trust: Time-tested methods to foster community, trust, and connection within your group.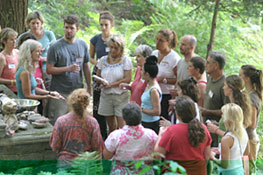 ~Embodying Presence: How to stand in your inner authority and expertise on your subject without becoming either arrogant or apologetic.
~Creating Music in the Room: Conducting the elements of lectures, guided experiences, movement, meditation, play, rest, and group sharing as a beautiful piece of music, always shifting and attuned to the group field.
~Being a Channel for Your Highest Wisdom: How to connect with your Higher Self as a teacher, following intuition and speaking from Source.
Testimonials About Christine's Teaching
From Program Center Leaders:
"Christine is masterful in creating the environment, experiences and tools to unfold her own genuine wisdom and presence to others. She has laser-like insight based on decades of teaching with a radiant presence!"
-Thomas Amelio, Director, New York Open Center
"It is an honor to have you here at Rowe teaching. Thanks for doing your work with such creativity, style, and grace. The world is a better place for your being alive. Your energy is very positive. We appreciate your sharing who you are so wisely, and sharing your gifts."
-Doug Wilson, Director, Rowe Conference Center, Rowe, MA
"...a gifted, masterful teacher and group facilitator. Christine's work is unique among trainers. It is the result of a lifetime of experience that is engrained deeply into who she is."
-David Hagerty, Vice President/Leadership Trainer, Blessing White Training and Consulting, Boston, MA
"As a 25 year former director/teacher at Kripalu Center, I know Christine's teaching intimately. I consider her to be one of the most skillful leaders of group work that I have known, and I have personally observed many teachers. Kripalu guests love her workshops. I highly recommend her."
-Kate Feldman, former Kripalu Center Director, psychotherapist/marriage trainer
"Christine Warren has impressed me more than any trainer I have observed in over 30 years in the field of education. Outstanding."
-Jean Soto, Director, Technical College
". . . a masterful and deep teacher of experiential learning. Christine's workshops at Kripalu Center are uplifting and greatly received by our guests."
-Aruni Futuronsky, Director, Ongoing Programs, Kripalu Center
From Program Workshop Participants:
"Everyone in our group rated Christine's retreat with us at Omega as the best one we have ever had, including some exotic places we've traveled to and other facilitators we've used. Her program was effective and balanced, and she walks that fine line well between process and applicability. We will remember this extraordinary experience."
-John Schulman, New Metro Young Presidents' Organization
"As a teacher, Christine Warren cannot be equaled. She is an intuitive, spirited, caring and compassionate human being who brings out the most authentic gifts of each individual in a group. I have taken several of her workshops and find them to be life altering in the most positive ways."
-Dr. Patsy Lynn Barnes, Educator, Writer, Santa Fe, NM
"As a teacher, Christine is without equal. Her excellent understanding of group process combined with her compassion and intelligence as a trainer creates a powerful learning experience for everyone."
-Norman Scull, retired NYC Attorney
"I came to Christine's workshop feeling brittle, uncentered and anxious. I'm leaving open and with a soft, compassionate heart for myself and others. Christine's openness, clarity, compassion and intelligence were powerful. Being with her was safe and allowed us all to be vulnerable and explore ourselves without shame or fear. it was transformative to be in Christine's presence."
-Anne Cody, "Common Ground" talk show host
"Christine was excellent. She spoke out of her experience. She knew her material; was flexible, compassionate, and understanding. Her combination of humor, knowledge, and experience can't be beat. I acquired clarity, understanding, and a strategy known to work. the exercises were very powerful-an opportunity to see that the teachings work and are helpful."
-John P. Laglos, Neurologist
"Christine's workshop was absolutely top notch. I have gathered the energy and power to continue on my path with confidence."
-Meg Murtha, Ph.D., Professor, Landmark College